GAC2700UGMA - Commercial Grain Tester, NTEP Approved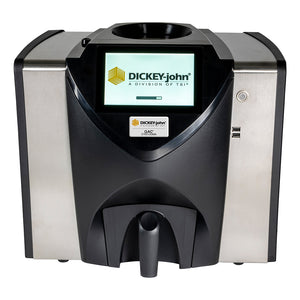 GAC2700UGMA - Commercial Grain Tester, NTEP Approved
Sale price

$7,340.00

Sale
SKU: GAC2700UGMA
 Stay up-to-date with calibrations to comply with USDA-FGIS or State Weights and Measures (released in May and August every year)
Download from USDA Website / Download from Dickey-John Website
We are pleased to introduce the new GAC 2700-UGMA grain moisture tester. The GAC 2700-UGMA uses the latest analysis technology (149 MHz) to provide repeatable results.  As well as incorporating forward-thinking security improvements, reduced measurement time, a new modern user-interface, and reliability improvements. Which is why we say about the GAC 2700: Our Best Just Got Better.

Enhanced Security: Provides you with the ability to customize instrument access to specific employees.
Faster Processing: Rapid Analysis Mode reduces the measurement process time to get trucks moving through your facility.
Improved Usability: Reduces training with an interface and navigation that's as simple as a smart phone app.
Repeatable Accuracy: GAC 2500-level accuracy provides confidence that you're making decisions based upon accurate data.
 PRODUCT FEATURES:
Utilizes 149 MHz technology
Rapid Analysis Mode reduces the need to touch the instrument during operation
Improved processing provides shorter analysis time allowing more samples to be run, especially important during busy seasons
Modern, intuitive operator interface simplifies training
Optional pass-through drawer minimizes real-life run time in grain operations
Memory storage for up to 3,000 measurements
Multiple USB ports on the back of the unit for software upgrades, USB devices, printer and peripherals • Additional USB ports located on the front of unit for easy calibration imports and data exports
Ergonomically designed drawer handle reduces operator fatigue
Calibrations:
With the myriad of applications in the industry, DICKEY-john® understands the need to modify moisture testers to suit the requirements of your region and operation. That is why the GAC® 2700-UGMA is designed with a robust set of standard calibrations and supported with the option for expansion.
Lowest legal temperatures, up to 20% moisture at -4° F
Highest moisture limit with unofficial hot grain calibrations
Calibrations specifically developed for specialty crops such as peanuts, almonds, and popcorn
Best-in-class support backed by DICKEY-john's calibration laboratories
Convenient, easy-to-download calibrations available
Custom calibration development available for unique crop and region attributes
Actual dimensions 16" L x 15.25" W x 14.75" H. Ship dims 25" L x 25" W x 25" H. Net weight 34 lbs., Ship weight 43 lbs. GAC-P25 Printer Actual dimensions 8½" L x 6¼" W x 6¾" H., Ship dims. 12" L x 11" W x 12" H. Net weight 6 lbs., Ship weight 10 lbs.