Ohaus Adventurer Pro™ Grain Grading Scales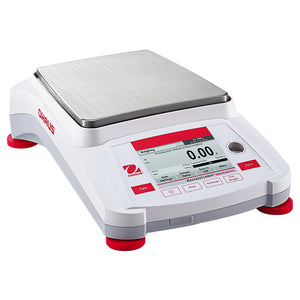 The Ohaus Adventurer Pro Grain Grading Scale has been designed to provide a durable, high-precision testing scale for use in both commercial and GIPSA applications. The AX4202N/EGN is NTEP Class II, Handbook 44 approved and features dockage (FM) readability to 0.01%.

Standard features include easy to use operation with full color touch screen, English prompts and simple four key operation. The test weight and dockage modes have dedicated key functions to speed use. The Adventurer can be used for simple weighing, test weight, and both standard and reciprocal dockage modes. The AX4202N/EGN will read in pounds per bushel with a quart or pint cup and kilos per hectoliter with a liter or half-liter cup. Capacity 4200g x 0.01g (non-approved mode) or 0.0[1] for approved applications. Capacity is by subtraction, full range memory and less than 3 seconds for stabilization time.
Scale includes No. 64BP blue plastic triangular sample pan. 
Net Wt: 6.8 lbs, Ship Wt:15 lbs.
Actual Dims: 13.93" L x 3.94" W x 9.05" H, Ship Dims: 22" x 16" x 12".
Model
AX4202N/EGN
AX5202N/EGN
Max
1g
1/16 oz
Min
0.5g
d=
0.01g
e=
0.1g
Approval Class
II
Repeatability (std. dev.) (g)
0.01g
Linearity (g)
±0.02g
Span Calibration Points (g)
1000g, 2000g, 3000g, 4000g
1000g, 2000g, 3000g, 4000g, 5000g
Calibration
External
Weighing Units
gram, kilogram, carat, pennyweight, grain, pound, ounce, troy ounce
Applications
Weighing, dockage, test weight
Stabilization Time (typical)
≤1.5 seconds
Sensitivity Temperature Drift (PPM/K)
3
Display
Full-Color WQVGA Graphic LCD
Display Size
4.3 in. / 10.9 cm (diagonal)
Backlight
White LED
Controls
4-wire resistive touch screen
Communication
RS-232, USB × 2
Scale Power Input
12 VDC, 0.5A
Power Supply
AC Adapter Input: 100–240 VAC 0.3A 50–60 Hz AC Adapter Output: 12 VDC 0.84A
Platform Size (diameter)
175 × 195 mm / 6.9 × 7.7 in.
Assembled Dimensions (W × D × H)
354 × 230 × 100 mm 13.9 × 9.1 × 4.0 in.
Shipping Dimensions (W × D × H)
557 × 392 × 301 mm 22.0 × 15.5 × 11.9 in.
Net Weight
3.9 kg / 8.6 lb
Shipping Weight
5.8 kg / 12.8 lb