MB90 Moisture Analyzer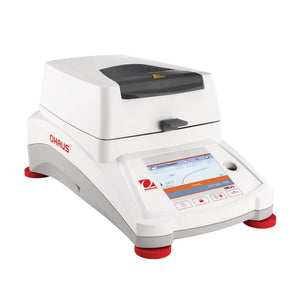 The Ohaus Moisture Analyzer (MB90) is perfect for feed blends, specialty grains, pharmaceutical, chemical, environmental, food and beverage industries and more. This fast rugged analyzer gives you the flexibility and accuracy required for moisture content determination by using halogen heating which distributes heat uniformly over the sample and speeds up the drying process. Designed for tool-free cleaning, the MB90's components can be easily removed for quick and easy maintenance. Operating the MB90 is intuitive with the icon-driven menu navigation on the touchscreen display.

The MB90 is manufactured in an ISO 9001 registered facility and combines state-of-the-art heating with highly accurate weighing technology to deliver a faster, more precise method of moisture analysis.
Fast halogen element provides uniform infrared heating up to 160 C in less than 1 minute and performs up to 40% faster than traditional infrared methods
Analytical performance, with a readability of 0.01%/0.001g 90 gram capacity
Moisture range 0.01% to 100%
Temperature range 40-200ºC
Infrared halogen technology begins drying your sample in seconds. The unique reflective housing serves to create a more uniform distribution of heat, improving analyzer accuracy
Two drying profiles to ensure accuracy
Standard RS232 and USB ports for quick connection to PC or flash drive - you simply save and transfer data from the moisture analyzer to a USB drive