Soil Sampling Tube Kit with Auger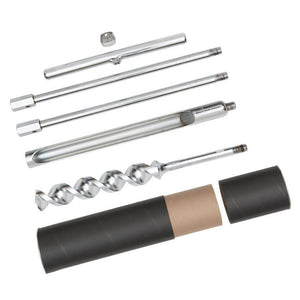 Soil Sampling Tube Kit with Auger
The Soil Sampling Tube Kit includes both a high-quality soil probe and spiral auger. This versatile kit is a great value and can be lengthened with two 12" extension rods that can be used together or separately, to save your back from bending over and sampling at various depths. All parts are interchangeable so you can customize the tool to fit your need.
The kit comes with a 12" screw-on handle and a 12" spiral auger that is 1¼" in diameter and flighted 8". The corkscrew shape of the auger is ideal for boring holes quickly. The included 12" soil tube will take approximately an 8" core ¾" diameter, and comes with a replaceable screw on Regular Soil Tip. The outer diameter of the tube is 15⁄16". The tube is designed to eliminate friction in the tube after cutting the sample. The non-clogging design has cut-out in the front to allow for easy soil removal, visual inspection, and cleaning. The sample is unloaded from the tube without binding or compacting. It is marked at 6" intervals to indicate sampling depth.
Parts are easily taken apart for convenient, compact storage in round 13" carrying case.
The Soil Probe and Auger Kit includes:
One - 12" Handle 
Two - 12" Extension rods 
One - 12" Spiral Auger 
One - 12" Tube 
One - Regular Soil Tip 
One - 13" Heavy fiberboard case
Made with the exceptional workmanship and materials, our soil equipment is finely machined for smooth, easy sampling, and long-lasting durability. Soil tubes and augers are constructed of high-grade nickel chrome plated steel for extra rust, tarnish and corrosion resistance. All soil sampling components are interchangeable so you can easily add parts as needed.