Soil Compaction Tester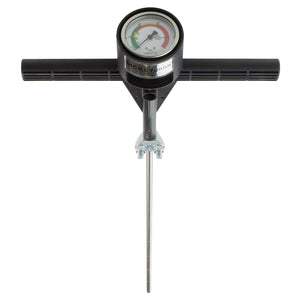 Soil Compaction Tester
Soil compaction can be a serious and expensive problem. Severely compacted soil is difficult to work and can lead to poor root and plant development. Compaction restricts efficient water management by limiting the ability of plants to take up water and nutrients from the soil. A compacted zone can also make fertilizers and pesticides difficult to utilize. If not absorbed, they can easily wash away. If trapped near the surface, they can concentrate and damage crops.  The Seedburo Soil Compaction Tester enables you to identify areas of compaction and recognize conditions in your field. You get quick answers about your tillage program.

The Dickey-john Soil Compaction Tester is constructed of a rugged molded housing and handle with an easy-to-read, color-coded stainless steel dial that's liquid filled to reduce shock. Stainless steel rod has depth markings at 3, 6, 9, 12, 15 & 18 inches. Measures in PSI (pounds per square inch).

Net wt.3 lbs. Ship wt 4 lbs. Ship dims 41" L x 13" W x 4: H.