Model 80800CN Sewing Head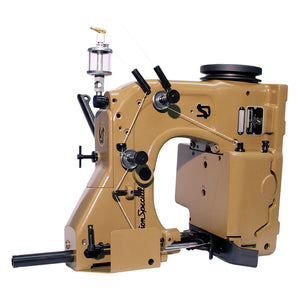 Model 80800CN Sewing Head
The class 80800 sewing heads are used in conjunction with a line of bag closing columns and offer a complete choice of high production equipment that will meet your needs today and into the future.
The 80800CN is a plain closure, standard style head, which is used when all bags are the same size and a manual height adjustment column is sufficient. The 80800CN will sew paper, synthetic and natural fiber bags up to 32 plies with 3 to 4 stitches per inch (3-1/2 is standard) and a maximum speed of 2200 stitches per minute. It is used for closing small and large filled bags of burlap, jute, cotton, paper and plastic or woven polypropylene materials.
The 80800CN is used with the US100 (NOT INCLUDED, CALL US FOR PRICES), basic pedestal with sewing motor, electric controls and moveable base for use with the 80800C head. The US100 has a telescopic column with hand wheel height adjustment, which has square, instead of round, construction to reduce unwanted twisting of the column. The US100 also has a swing out sewing machine mounting plate for easy access to the machine for threading, inspection and maintenance work. The thread stand is large enough for up to 18-20 lb cones and one cone of filler cord. Available as a double-head system, with or without flat belt or V-trough conveyor and thread break detectors. Other Union Special sewing heads and systems available.