Spot-Aerator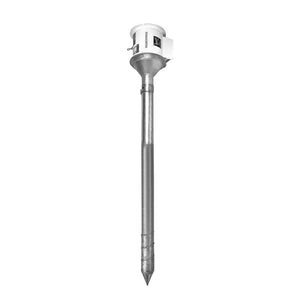 Spot-Aerator
Sale price

$1,700.00

Sale
SKU: SA1
This is the only Spot-Aerator that offers such a high pressure tubeaxial fan. Fan will delivers 650 CFM against 1½" static pressure (water gauge) or 1300CFM against ½" static pressure.

Spot-Aerator incorporates a 10" x 10" polyethlene apron which prevents "short-circuiting" or channeling of air right next to the duct. This short circuiting happens on other spot aerators because high performance fans used with small ducts create high velocities. In addition, the apron will greatly increase the drawing capacities of the Spot-Aerator. The Spot-Aerator is easy to insert and remove from any grain mass. The rugged spiral duct allows the operator to turn the complete duct length into the grain in a matter of minutes. The "Natural" spiral of the duct makes this possible. Other units with auger-type spirals are hard to insert because they go into grain as a screw goes into hard wood.

Net Wt. (fan) 44 lbs., Connector 7 lbs., Tube 19 lbs.

The Seedburo Spot-Aerator includes a 5" angle ring, 2? of 5" diameter, non-perforated tubing, 4? of 5" diameter perforated tubing and a 6" long closed point.