Grain Warmer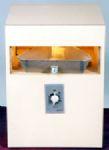 The official grain inspection procedure requires samples to be warmed quickly without affecting the integrity of the sample. This device provides an easy and quick process for warming or cooling grain. This unique device will "warm" a very cold grain sample to room temperature in a minute. Can also be used during harvest time of small grains, when the temperature is very hot. The "warmer" can be used to cool the grain.

New NTEP and USDA-FGIS requirements state that if a moisture tester?s measured sample temperature is outside of range of 0-40ºC; no moisture results will be displayed. For optimum accuracy and consistency in official inspections, it is recommended that the sample temperature be brought within the range of 10-32ºC (50-90ºF) before performing moisture determinations. If the instrument finds the sample temperature to be different from the instrument temperature by more than 20ºC, it will not display moisture results. For optimum accuracy and consistency in official inspection, it is recommended that the difference between the grain and instrument temperature not exceed 11ºC (20ºF).

ALL grain should be inspected at room temperature for most accurate results in determining: protein in wheat or barley; odors; determining live insects from dead ones; moisture determination; and test weight per bushel.

Dims. 14" L x 14" W x 18" H. Net wt. 42 lbs. Ship wt. 46 lbs. Ship carton Dims. 16" L x 16" W x 26" H.