Black Light Pocket UV Lamp - 4 Watt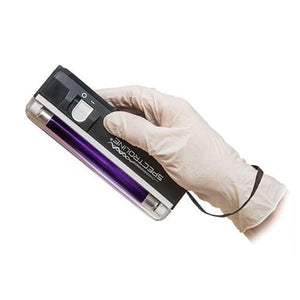 Black Light Pocket UV Lamp - 4 Watt
Pocket-sized design. Measures only 6.38 x 2.3 x 7/8 inches (16.2 x 5.8 x 1.98 cm)
Lightweight and portable. Weighs only 6.4 oz (181g) with batteries.
Powered by four AA (1.5 volt) alkaline batteries (not included). Provides 4 to 6 hours of use.
Features trouble-free tube changing. Sliding cover ensures easy battery replacement.
Comes with a handy, build-in lamp stand and nylon wrist strap.
| | |
| --- | --- |
| Wavelength | (1) 4-watt UV-A Tube (365nm), Part No. BLE-220B |
| Weight | 3.04 oz (86.2g) without batteries, 6.4 oz (181g) with batteries |
| Features | Self-filtered, long-wave tube |
HOW TO INSPECT FOR CONTAMINATION
NOTE: For best inspection results, dim the lights and close the blinds to lower the light level in the room.
Scan possible sources of uncleanliness slowly, looking for shades of a fluorescent glow. Keep in mind that many materials fluoresce naturally. By scanning your surroundings, you can confirm that linens were properly laundered, carpets have been vacuumed and bathrooms are sanitary. You can quickly and easily scan toilet seats and flush handles, sinks, faucets, countertops and doorknobs to see if they have been cleaned properly. You can also check gym and pool equipment. Surfaces may appear clean but fluoresce in a specific place, indicating that areas of contamination might have been missed.