Digital Whiteness Tester for Rice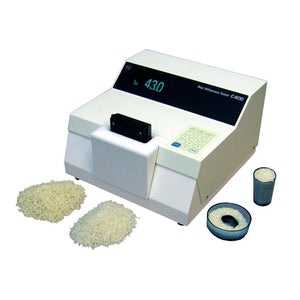 Digital Whiteness Tester for Rice
The Kett Model C-600 is a new instrument which replaces the well known Kett Model C-300.
For many years, the Kett Model C-300 has been recognized as the worldwide standard for whiteness assessment in rice.
Whiteness can be used as a measure of the amount of rice milling and rice purity to optimize the milling and formulation process. Through the advanced new design of the Kett C-600, tests are faster and more precise (repeatable). Also, the Model C-600 requires a much smaller footprint, lower energy consumption and minimal maintenance.
The Kett C-600 provides years of consistent measurement and is so simple to use. Anyone can achieve laboratory quality measurements in less than 2 seconds. Simplicity in its operation, just place the rice sample in the sample cell, then place the cell into the C-600, then the whiteness value is displayed on the large LED display.
The Kett Model C-600 Whiteness Tester is an effective and efficient quality control tool. This instrument is often used in measuring the effect of production processes.